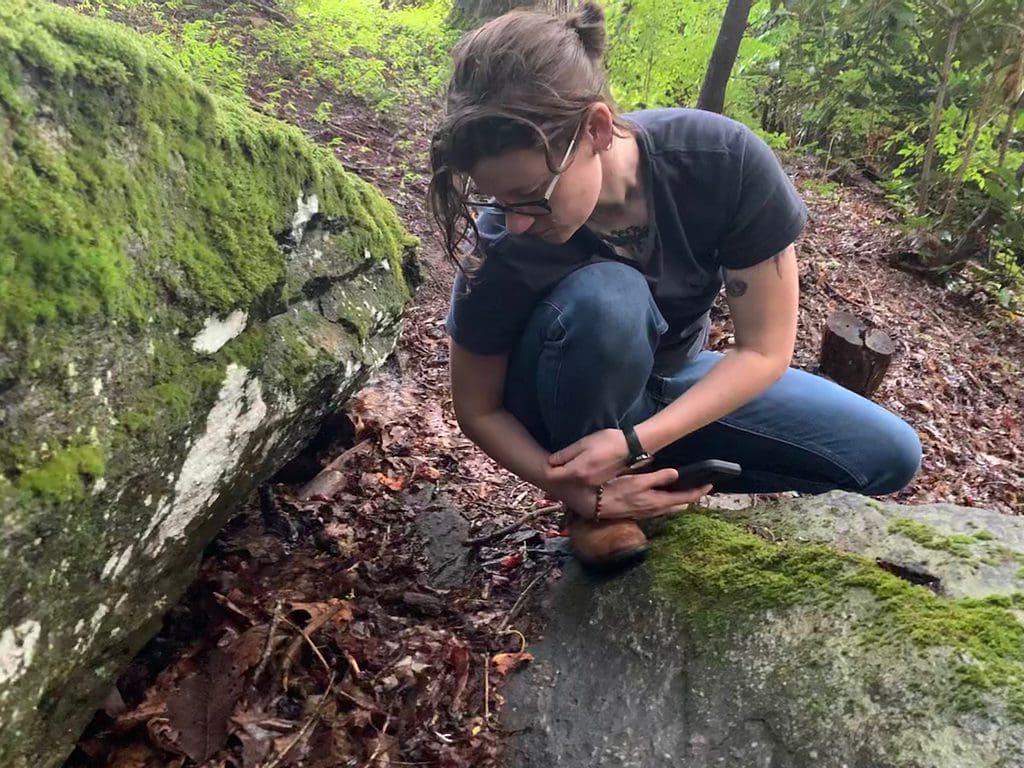 Equal parts cerebral, witty, and warm, Heather is WE·DO's Ride-or-Die Project Manager who keeps clients happy and teammates on-point, all while not losing their sense of humor (or minds) in the process.
Born and raised on the West and South sides of Chicago, Heather's trajectory into the world of Marketing happened (as the best things in life so often do) solely by chance. A true nerd at heart, Heather's formal schooling was in Biology and the Political Sciences, with a brief stint of slinging drinks thrown into the mix.
She joined the WE·DO crew in 2017 as an SEO wizard and has since worked her tail off to become an indispensable player for our overall team's infrastructure and growth.
In her free time, Heather enjoys all forms of tinkering and toying (think: Martha Stewart with a chainsaw) as well as analyzing the finer points of standup comedy. She lives with her wife, Kait, and three cats, on the top of a mountain full of rhododendron, weeds, and bad internet, all of which require varying amounts of tending.
Here's Our Fly-By Q & A With Heather:
What gets you out of bed in the morning?
The drive is just there; always has been. I don't even use an alarm clock anymore. My eyes open at roughly the same time every morning—no matter how late I went to bed the night before, every fiber of my being says "go." So I go.
Setting: cocktail party in a foreign country. Describe your job in the simplest way possible to someone who may or may not understand you:
I have people on the one side who ask for things, and people on the other side who do the things. I'm in between them. I tell these people over here who asked for things that the people on the other side who do the things are gonna do. Then I tell the people who do the things what they need to do for the people who asked for things, and then eventually I go back to the people who asked for things and tell them what the people who do the things did for them. I get paid to do this.
What three words would you use to describe your role?
Harbinger; clarifier; fortifier. It's serious on the surface — but deep down, this role's all about kindness and exactitude.
If you could switch jobs with someone, who would it be?
Ruth Bader Ginsburg. I know you want me to, like, name someone at WE•DO, but my final answer is RBG.
What is on your wish list for your next years here?
Projecting out that far, I'd like to be a senior-level PM or something beyond that. I'd like for part of my role to involve brand promotion or brand ambassadorship. If I remain a PM, I'd like to be managing a set group of team members for a set group of clients (or project type).
What are your biggest professional challenges?
That AT&T doesn't believe that people who live on mountaintops should have internet unless they also buy cable that they don't need?
All jokes aside, I tend to feel incredibly confident that I know what I'm doing and that I'm good at it until I suddenly question myself and then dip into a long, quiet spell of panic because I might've been wrong this whole time. That's me in a nutshell. I'm that person in the airport security line, slowly untying my shoes, eyes wide and in a cold sweat because maybe someone else did pack my bag and put a gun in it I'M JUST NOT SURE.
(WE·DO team side note: Turns out, it's exactly this quality that makes Heather so thorough. )
What advice would you give to recent new hires?
At the end of the day, the single most important skill that you need to have is willingness. Willingness to learn, to do, to think, to speak, to grow. Willingness is the bedrock of collaboration and action.
What is your guilty pleasure?
One of many: Scotch. But I don't feel guilty about it one damn bit.
What are you reading at the moment?
My answers to these questions. Which is making me wonder if I'm good at answering questions. Did I answer them honestly, or is this all a facade?… Did someone put a gun in my carry-on?
Fill in the blank:
At WE DO, I am happiest helping clients

see through to the end of something that's important to them.
Born and raised in a small Arkansas town, our Lead Developer, Josh, got bit ...