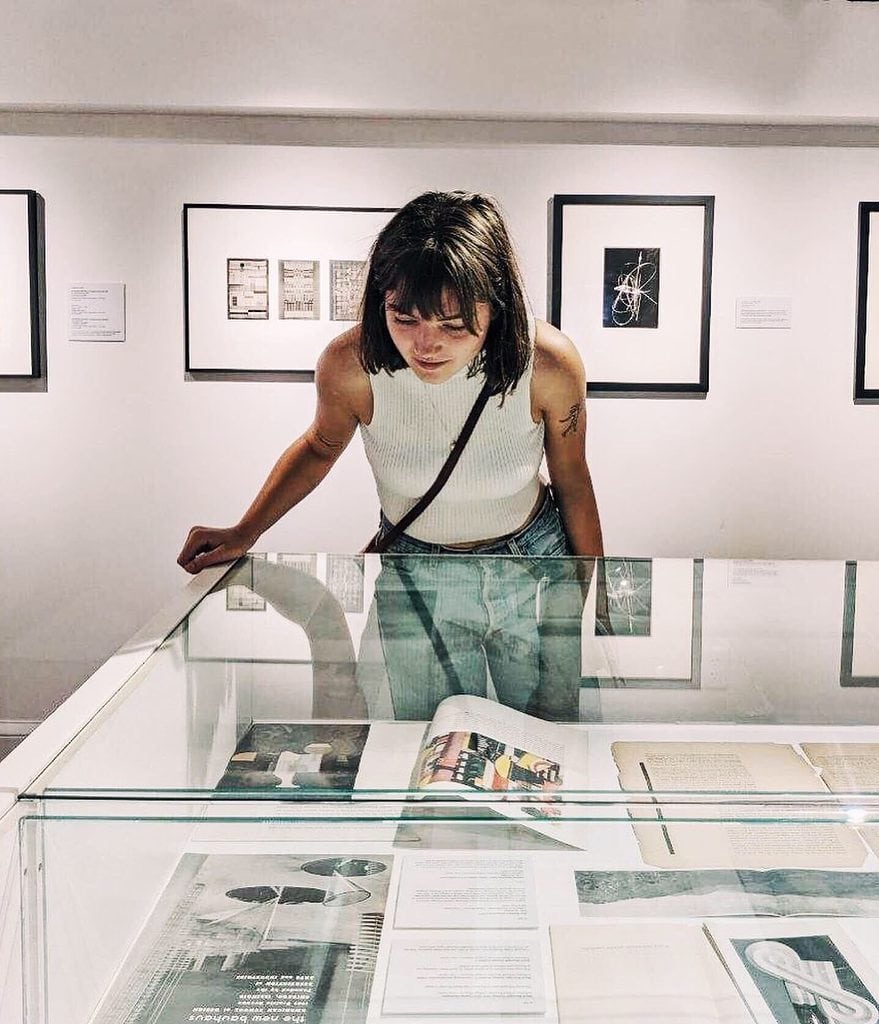 If pulling yourself up by your bootstraps were an Olympic sport, our Lead Designer, Sadie, would be collecting some major bling…medals…trophies…whatever. You get the point. She's a total self-starter and force, not to mention a linchpin in the creative process here at WE·DO.
Born and semi-raised in Michigan, she moved around frequently as a child, eventually settling in the mountains of North Carolina. With an interior designer and architect as parents, you could say she came into design honestly. She is quite literally the product of an artsy, messy creative type and a lover of all things clean lines and structured designs. We couldn't peg a description of her any closer!
In her free time, Sadie can be found doing more of the things she does at work (ha!) as well as rock climbing, oil painting, printmaking, cooking, and smelling produce at her local Trader Joe's.
We're so grateful to have you on the team, Sadie. You're a gem.
Here's our fly-by Q & A with Sadie:
How did you get into Design?

I'd always been designing (I took school PowerPoint presentations WAY too seriously) and knew I liked creative things, but always felt intimated by the limitlessness of a blank canvas in art class. So when I opened Illustrator and discovered there was a creative realm for us middle brained folks to live in, I fell in love. It was where I'd hit that flow state and lose track of time.

For my senior project, I did a communication design project focused on mental health awareness and put so much into it. I'm talking like 15 times more hours than required. I ended up winning Best Senior Project for it, which was extra validation that Design was something I wanted to keep working at.

How did you land at WE·DO?

I got hired at WE•DO right out of high school with a shitty portfolio and a huge desire to learn as much as I could as quickly as I could. I didn't know how to do anything but was thrilled about it, and WE•DO is the perfect environment to fail fast and grow faster. Now I'm three and a half years in with a less shitty portfolio and still learning constantly.

What gets you out of bed in the morning?

I try to approach every day like a kid waking up on field trip day – there's exciting stuff to do!

How would you describe your day job to a child?

I basically put together puzzles all day. I spend a lot of time organizing and trying out things that don't work, but once everything's in the right place, I end up with a pretty-looking final product.

What is your biggest achievement to date – personal or professional?

My biggest professional achievement isn't any one thing, so much as it's able to look back at old work and see how much I've grown. Looking at the portfolio I applied to WE•DO with makes me cringe, but I'd be sad if it didn't! No cringe = no growth.

What three words would you use to describe your role?

"That's 2px off."

If you could switch jobs with someone, who would it be?

Neri Oxman. In no way could I actually do her job, but it'd be fun to pretend and be surrounded by so many talented geniuses using Design to create a more sustainable future.

What is on your wish list for your next years here?

I want every day I show up to be a day I grow and contribute positively to our team and the things we create. Also, I want to go to as many design conferences as humanly possible.

What are your biggest professional challenges?

Time management! I'm constantly battling the reality that there are only 24 hours in a day

If you could choose anyone, who would you pick as your mentor?

The designer, Paula Scher. Hands down.

What do you like most about your job?

The challenges, specifically, the dopamine rush once we overcome a challenge and end up with a kickass solution.

What advice would you give to recent new hires?

Don't be afraid to challenge what success looks like for a project. Also, learn where the mute notification button is in Slack.

What is your motto or personal mantra?

"Get in over your head as often and as joyfully as possible." Alexander Isley

What's your favorite blog?

It's Nice That – lots of good Design and words about Design! I consume a lot of design content, if you couldn't tell.

What is your guilty pleasure?

Jalapeño Cheetos and watching true crime late at night even when I know it's going to make me think I can hear a serial killer outside my window.

What are you reading at the moment?

The Design of Everyday Things by Don Norman and The Female Persuasion by Meg Wolitzer.

Fill in the blank:

At WE·DO, I am happiest helping clients make cool shit for their business.