SEO Topic Cluster Planning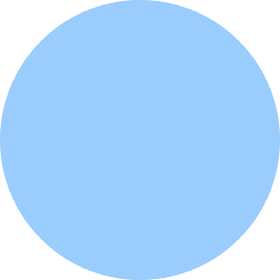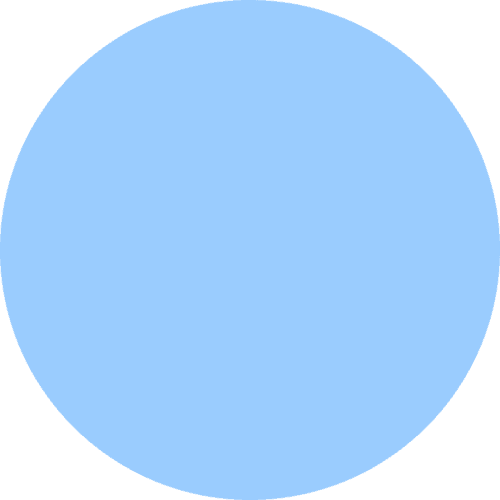 Everyone knows that moving up to the top in Google search results can mean the difference between customers finding you or not. The reality is that you have to be at the tip-top of those search results. Most of the click-through traffic happens within the first five results. After that, it starts to drop off significantly.
The other reality is that search engines constantly change and evolve their algorithms. What may have worked a couple of years ago may not work now. However, the one thing that has remained constant is Google's desire for quality content. They want to ensure that their users get the best possible experience and the most relevant results.
One of the ways they can do this is by using what is called topic clusters. A topic cluster is a group of related content pieces around a specific main topic. The main topic would be your "primary target keyword," which is the keyword you are trying to rank for. Then, you have a group of content pieces related to that keyword, acting as supporting content.
Why use topic clusters for better SEO?
As an SEO agency, we are a huge fan of using topic clusters to push clients to the top of Google predictably. Here are a few reasons why:
Topic Clusters Help You Rank for More Than One Keyword
When you have a topic cluster, you are not just trying to rank for one keyword. You are trying to rank for that keyword and all of the related keywords. This gives you a much better chance of moving up in the search results because you target a group of keywords instead of just one.
Topic Clusters Help Search Engines Understand Your Content Better
Google wants to make sure that its users get the best possible experience. To do this, they need to be able to understand your content. Having a topic cluster helps Google understand what your website is about and what type of content you have. This, in turn, helps them match your website up with the right searches.
Topic Clusters Help You Create Better Content
When you are trying to rank for just one keyword, you can sometimes be tempted to stuff that keyword into your content as much as possible. However, this will not help you rank, and it will not help your users. When you have a topic cluster, you are forced to create better content because you need to target a group of keywords. This creates a better experience for your users and helps you rank higher in the search results.
How do you systematically create a topic cluster?
Topic clusters are not magic, but once you see the results, it may feel that way.
Before we dive in, there is something to note. There are tiers of SEO effort depending on the competitive nature of your industry or target terms. For instance, if you are trying to rank for top SEO agencies, you may have a hard time reaching the top despite all of your best efforts. There are gobs of really talented SEO experts who are trying to get to the top. Contrast that with trying to rank for "plumbers + small town." With some basic SEO and a decent page, you may rank at the top within a week.
Let's break down how to go about creating a topic cluster.
Choose a primary target keyword & pillar page.
When it comes to topic cluster creation, choosing the right primary target keyword is essential. This is the keyword that you are trying to rank for per pillar content page or blog post and should be at the center of your topic cluster strategy. There are a few things to consider when choosing a primary target keyword:
Relevancy: The keyword should be relevant to your business or web pages. Try to find a keyword that is not too generic and has the right search intent. For example, if you were a real estate company in Asheville, NC, it would be better to try to rank for "homes for sale in Asheville, NC," instead of just "Asheville." The search volume for "Asheville" would likely be much higher, but the search intent would be all over the place.
Search Volume: The search-relevant keyword should have a decent amount of monthly searches. You can use a tool like Google Keyword Planner to check this. If you work with an SEO agency, they will likely use AHREFs or SEMrush for more accurate keyword search volume.
The volume should be "within reach," as we put it. If you have a brand new website that doesn't have any organic traffic yet, you simply won't be able to reach a target term that has thousands of monthly searches. It just won't happen.
A good rule of thumb is to go after terms with the same monthly traffic as your website gets within an average day. As you work through your keyword research, you may want to look for long-tail keywords, as the topical relevance may be much better.
Difficulty: The keyword should not be too difficult to rank for. You can use a tool like SEMrush keyword magic tool. The higher the keyword difficulty, the harder it will be to rank for. When setting goals and metrics specific to the topic cluster, keep this in mind. I'm all about shooting for the moon but be reasonable here.
Choosing topic cluster supporting content
Your topic cluster supporting content should be relevant to your primary target keyword. This is what will help you rank for your primary target keyword as well as other related keywords.
We recommend using a mindmap to map out your topic cluster or pillar page and sub-pillar pages. This will also come in handy when mapping out the internal linking and deliberate site architecture.
One of the best ways to figure out what your supporting content should be is to drop your primary keyword into Google and scroll to the bottom, where Google suggests related search terms. This is Google giving you the answer to the question you are asking.

For example, if our primary target term is "SEO in WordPress." Great supporting content is; WordPress SEO without plugin, SEO plugin for WordPress, WordPress SEO course, and WordPress SEO checklist.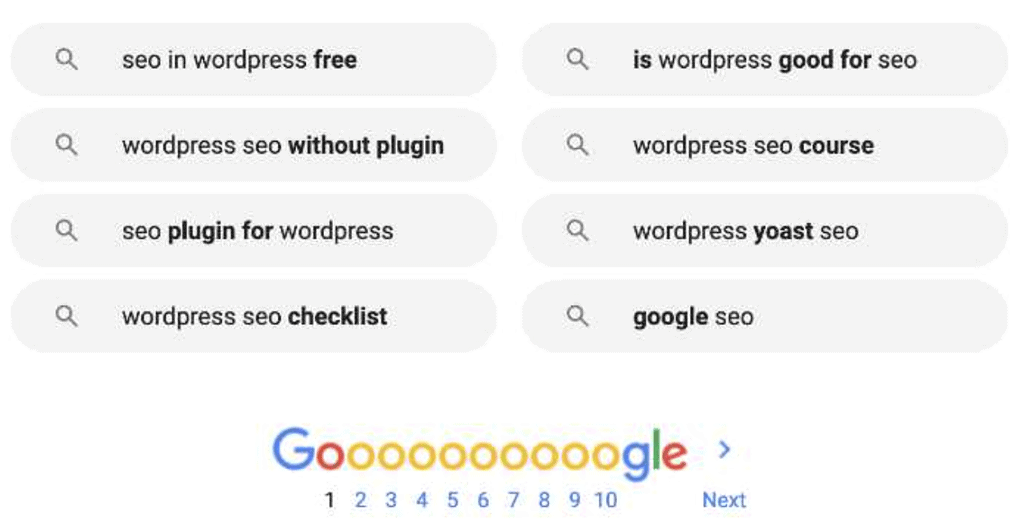 Boom! That could be a topic cluster right there.
Another tool that can help identify topic clusters and related target keywords for each cluster content is SurferSEO. SurferSEO has a content planning tool that is very helpful when you are developing your content strategy and performing keyword research.
Create content around your primary target keyword and related keywords
Creating the content is the next major task. You have your primary keyword and your supporting topics/keywords, and you are ready to get started.
By following some SEO best practices and using your main keyword in your URL, H1, and meta description, you will accomplish some significant pieces. Assuming you are creating relevant, helpful content, you also need to consider using enough keywords within the content for Google to understand what you are talking about. This is where plenty of people will disagree with me, but I would write content and stuff it full of your related keywords. Most content I read doesn't have enough keywords. We see article after article about not stuffing your content full of keywords. But there is a difference between not using the same keyword repeatedly and not having enough keywords.
Some tools help thread this needle. We use a tool called SurferSEO which will look at the top 10 search results for a given keyphrase and calculate which keywords should be used and how many times they should be used.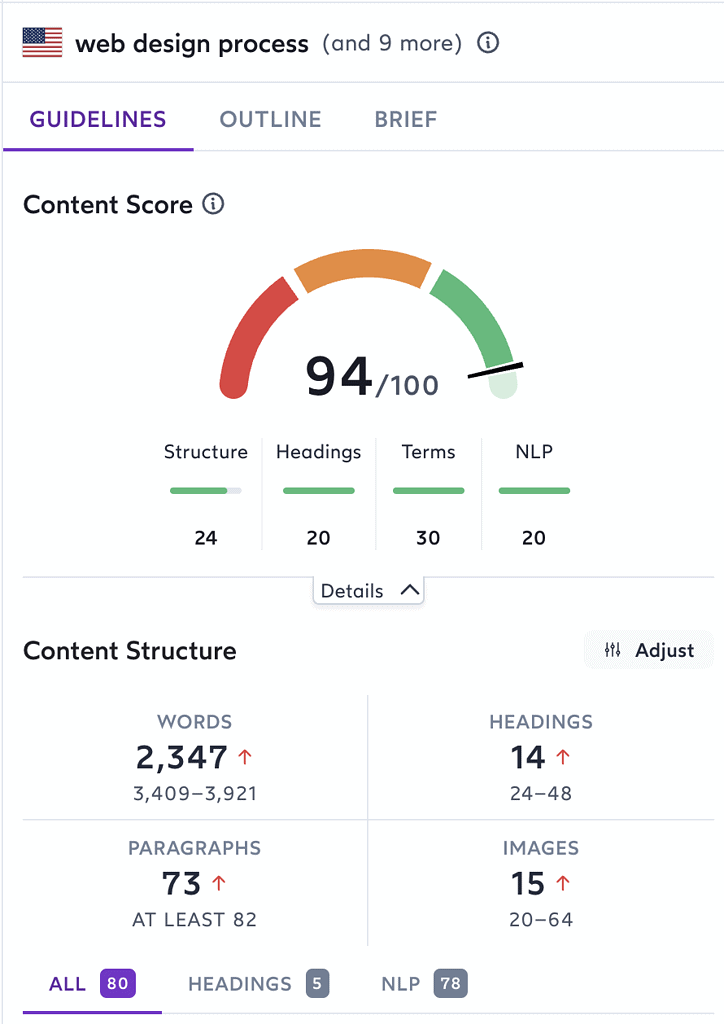 This is a game-changer.
Link to other pieces of content within your cluster as supporting content
Many people miss this step. Creating links in a systematic way to bolster your topic cluster is rarely done correctly. These internal links should follow a strict recipe specific to the content clusters and overall topic cluster model.
Let's work through these from the bottom up. Your supporting cluster content or the pages related to your primary target pillar content should all have internal links that point to the primary page. The internal links need to be towards the top of the body content. You should also add internal links to the other sub-pillar pages or supporting content within that specific topic cluster. There should be no other internal links in that cluster content.
Finally, your primary pillar page needs one link to one of the sub-pillar pages.
This creates a siloed topic cluster that search engines love. This SEO strategy is tried and true and works for any topic cluster. This topic cluster model will also work using multiple topic clusters within your website.
Monitor Your Search Engine Results Page Placements
Tracking progress for each topic cluster is important in knowing what changes you need to make. The search engine algorithm has many variables, with many players all reaching for the top. Getting your primary pillar pages to rank at the top of search engines requires only a few subpages. At the same time, you can create many supporting web pages and optimize everything perfectly and still not reach the top. By using tools like Google Search Console, you can measure the progress of each of your pillar pages and the search queries associated with it.
The steps that we've outlined in this article are tried and true methods for increasing your website's search engine ranking. By creating content around your target keyword, using internal links to bolster your topic clusters, and monitoring your search engine results page placements, you can increase traffic to your website and drive more sales through organic search.
Fully transparent. Rapid testing. Growth minded.
Fully transparent. Rapid testing. Growth minded.
Schedule your 15-minute free consultation
WE•DO is ready to put our minds to work to drive your growth.